Zasów
Zasów (until 1962 Zassów) is a small village in the municipality of Żyraków. It is located at the intersection of the roads connecting Pilzno with Radomyśl and Mielec as well as Dębica with Tarnów and is the center of Zasowszczyzna. It covers an area of 994 hectares and is home to about 900 residents. Historic Manor Park, adjacent to market square, occupies about 10 acres.
There we can find the ruins of an eighteenth-century mansion that was once owned by a wealthy Łubieńscy family and two ponds. Near the market square, there is also a nineteenth-century neo-Gothic parish church build in 1885, and by the road between Róża and Zasów, military cemetery bearing the number 242 can be found, dating from the period of World War I, on which 238 dead soldiers are buried including: 21 Austrian from 4 Tyrolean Imperial Infantry Regiment and 28th Infantry Regiment, 92 of Germans from 217 and 218 Prussian Reserve Infantry Regiment and 72 Russians. The cemetery was designed by a German architect Gustav Rossmann, born in Düsseldorf.
Zasów is famous in the region for plantations of fruit trees and shrubs. In the village there are number of nurseries.  Even a producer group has been established.
History of plant nursery in Zasów
In 1879, Witold Łubieński, an insurgent from 1863, took over the village of Zasów. He was first who establish the first famous fruit tree nursery there, simultaneously providing local peasants with work. He also became a promoter of this trade among his neighbours. Delivering materials and offering help, he propagated cultivation among inhabitants of the village. And that's how cultivating trees became a primary cause of increased wealth of the inhabitants of Zasów.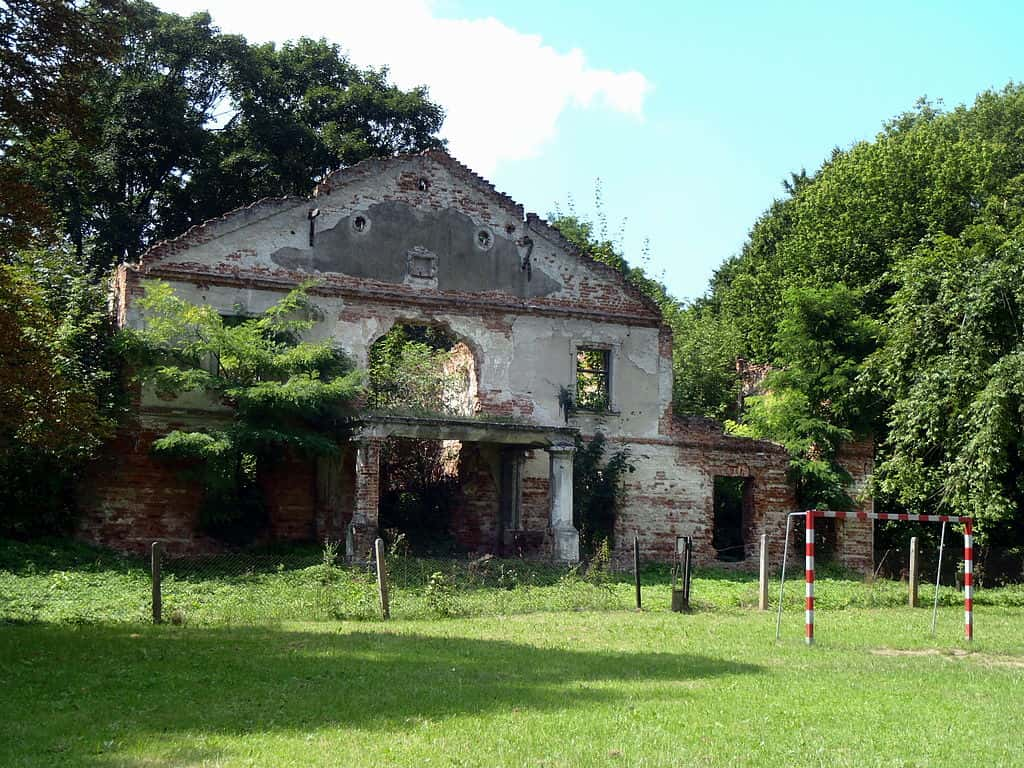 After Witold, household was taken over by his only son – Tadeusz Lubieński. Together with his father, they turned the nursery into the modern garden plants. At Tadeusz Łubieński's request, Professional Union of Farmers, and Agricultural and Commercial Cooperative were created. Tadeusz Łubieński and his wife Maria had five sons and two daughters. All sons were engaged in fight for independence of Poland.
Another descendant of Łubieńscy was Tadeusz's son - Alfred Łubieński. He was born on July 26, 1902. He graduated from the middle school and Agriculture Department at Jagiellonian University of Cracow. After graduated from university, he married miss Celina Raczyńska in Cracow. They had an only child – Teresa. He was involved in raising roses in Zasów, and he created a beautiful park which surrounded his manor. Thanks to Alfred's foreign practices (in Versailles he learned to raise roses and create parks), raising roses stood comparison with those in the Western Europe.
Currently, in Zasów there is "the Subcarpathian Association of Producers of the Nursery Material", which is an independent and self-governing organization of nursery, fruit-farming and ornamental material producers.
The association, in terms of its functioning, covers the area of Poland. To achieve its goals, the Association can function abroad. The aim of the Association is to represent needs and rights, as well as to undertake actions to increase profitability of its products. The Association has exclusive rights to Jonagoreda Morens and Supra.